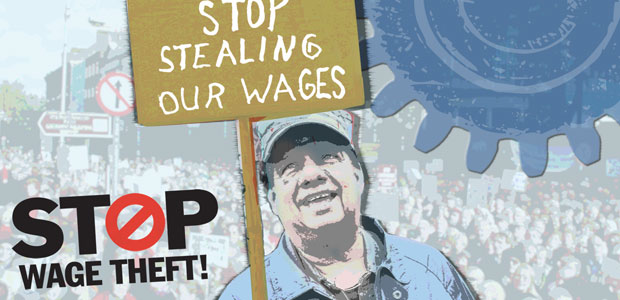 Wednesday, March 19th, 2014 | 12:00pm – 2:00pm | Ross S802
This panel presents research developed through the Closing the Employment Standards Enforcement Gap project funded by a Social Sciences & Humanities Research Council of Canada (SSHRC) Partnership Grant. The project is examining the link between precarious work and the enforcement of employment standards. Panellists discuss new approaches to employment standards enforcement, measuring employment standards violations through survey research and deterrence-based strategies to enforcement.
Leah Vosko | Challenging New Governance: Evaluating New Approaches to Employment Standards Enforcement in Common Law Jurisdictions
Leah Vosko is Professor of and Canada Research Chair (Tier 1) in the Political Economy of Gender & Work at York University. She is the Principal Investigator of the Closing the Enforcement Gap project. Vosko is the author of Temporary Work: The Gendered Rise of a Precarious Employment Relationship (University of Toronto Press, 2000), Managing the Margins: Gender, Citizenship and the International Regulation of Precarious Employment (Oxford University Press, 2010) and co-author of Self-Employed Workers Organize:  Law, Policy, and Unions (McGill-Queen's University Press, 2005). She is the editor and co-editor of six books including Liberating Temporariness?: Migration, Work and Citizenship in an Age of Insecurity (McGill-Queen's University Press: forthcoming). She has also overseen the collaborative Gender and Work Database and Comparative Perspectives on Precarious Employment Database projects since 2001.
Audio | Leah Vosko
Eric Tucker and Mark Thomas | Is there a 'Deterrence Gap' in Employment Standards Enforcement?
Eric Tucker is Professor of Law at Osgoode Hall Law School. He has published extensively in the fields of occupational health and safety regulation and labour law. Tucker has been involved in law reform initiatives through his participation on the board of Injured Workers' Consultants, a community legal clinic, and as a member of the steering committee of the Bancroft Institute, a grassroots organization that aims to promote research responsive to workers' needs. He has co-authored a study of the legal definition of employment for the Law Commission of Canda and a study of reproductive hazards in the workplace for the Royal Commission on New Reproductive Technologies. His published work includes Self-Employed Workers Organize: Law, Policy and Unions (with Cynthia Cranford, Judy Fudge, and Leah Vosko) (Montreal and Kingston: McGill-Queen's University Press, 2005); Labour Before the Law: Workers' Collective Action and the Canadian State, 1900-1948 (with Judy Fudge) (Toronto: Oxford University Press, 2001); and Administering Danger in the Workplace: The Law and Politics of Occupational Health and Safety Regulation in Ontario, 1850-1914 (Toronto: University of Toronto Press, 1990).  He also edited Working Disasters: The Politics of Recognition and Response (New York: Baywood Publishing Company, Inc., 2006).
Mark Thomas is Associate Professor in the Department of Sociology and Co-Director of the Global Labour Research Centre at York University. His research interests are in the areas of political economy and economic sociology, with a primary research focus on the regulation of labour standards at local, national, and transnational scales. He is the author of Regulating Flexibility: The Political Economy of Employment Standards (McGill-Queen's University Press, 2009), co-editor (with N. Pupo) of Interrogating the New Economy: Restructuring Work in the 21st Century (University of Toronto Press, 2010) and co-editor (with D. Brock and R. Raby) of Power and Everyday Practices (Nelson, 2012), and has published in journals including Labor Studies Journal, Studies in Political Economy, Economic and Labour Relations Review, and Journal of Industrial Relations. Current areas of research include: the regulation of transnational labour standards; the enforcement of employment standards legislation in Canada; and the intersections between labour organizing and populist movements in Anglo-American contexts.
Audio | Eric Tucker and Mark Thomas


John Grundy | Measuring Employment Standards Violations, Evasion and Erosion Using a Telephone
Survey
John Grundy is a SSHRC Postdoctoral Researcher in the Department of Political Science at Wilfrid Laurier University. 
Audio | John Grundy