Thursday September 24, 2015 | 11:30AM- 2:00PM | Harry Crowe Room 109 Atkinson College
with
Bryan Evans, Ryerson University
Bryan Evans is Associate Professor in the Department of Politics and Public Administration at Ryerson University and a member of the Yeates School of Graduate Studies. Dr. Evans' teaching and research interests focus on public service leadership, the politics and public management of neoliberalization, the effect of privatization on public sector employment and the quality of public services, policy capacity, and provincial government and politics. Dr. Evans is the principal investigator of the SSHRC-funded Partnership Development Grant "Policy engagement at multiple levels of governance: a case study of the living wage and minimum wage policy."
David Goutor, McMaster University
David Goutor is Assistant Professor in the School of Labour Studies at McMaster University. A historian by training, Dr. Goutor's research interests include Immigration and transnational migratory labour systems, working class history and formation, and organized labour's interaction with social movements, including feminism, human rights and Civil Rights movements. He is the author of Guarding the Gates: The Canadian Labour Movement and Immigration, 1872-1934 (UBC Press, 2007). Dr. Goutor is leading a research project on the Living Wage in Hamilton, Ontario, conducting qualitative interviews with employers in Hamilton who have been certified as Living Wage Employers, and with their employees, about how the workplace, workers' family life, and the broader community have been affected by the living wage.
Stephen McBride, McMaster University
Stephen McBride is Professor and Canadian Research Chair in Public Policy and Globalization in the Department of Political Science at McMaster University. He is an Associate Member of the School of Labour Studies; Adjunct Professor at the United Nations University- Institute for Water, Environment and Health; and a member of the Institute for Globalization and the Human Condition. A prolific scholar, his research deals with issues of comparative public policy, globalization, and political economy.
Patricia McDermott, York University
Patricia McDermott is Professor in the Socio-legal Studies and Gender Studies programs at York University. Her interests are in gender and the law, particularly in the areas of work and international human rights. With Meg Luxton, she is currently heading up a research project exploring how young adults manage on the minimum wage in the fast food, retail and daycare sectors.
John Shields, Ryerson University
John Shields is a Full Professor in the Department of Politics and Public Administration and Co-Director of the Master of Arts in Public Policy and Administration at Ryerson. His research interests include Canadian political economy; labour market policy; immigrant economic integration; the welfare state; public sector restructuring; globalization, and the political economy of the nonprofit sector.
Kaylie Tiessen, Canadian Centre for Policy Alternatives —Ontario
Kaylie is an economist with experience in development economics in rural and remote areas, provincial social policy analysis, social return on investment analysis, social audits, and collaboration with social justice networks. Her recent work has focused on provincial budget analysis, poverty reduction, and research support for a five-year economic development plan for First Nations communities. She has been part of the 25 in 5 Network for Poverty Reduction and has contributed to a provincial blog focused on public policy analysis.
With the relentless spread of precarious low-wage work and the challenges faced in expanding the scope of unionization, workers have revived the notion of the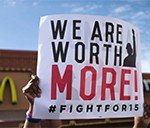 living wage. The living wage movement in North America has successfully pressed both local and state governments and some employers to set wages at a standard the ensures a decent standard of living. This vibrant movement has galvanized workers in some of the most vulnerable and poorly paid sectors of the economy. The GLRC's opening session in the 2015-16 speaker series assembles a panel of leading researchers focused on the living wage movement in Ontario.