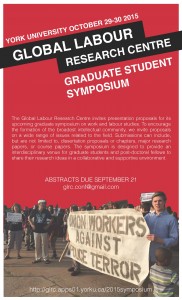 The Global Labour Research Centre is pleased to announce its first Graduate Student Symposium, to be held at York University on 29-30 October 2015 in TEL 1004 & 1005. The symposium showcases graduate student research on a wide range of issues related to the study of work and labour in a global context, and offers an interdisciplinary forum for graduate students and post-doctoral fellows to share their research in a collaborative environment.
As part of the symposium, the GLRC is convening a plenary panel on Academics and Workers' Movements. Panelists include Deena Ladd (Workers' Action Centre), Naveen Mehta (United Food and Commercial Workers), Alan Sears (Ryerson University), and Sean Smith (Unifor Local 2002). The panel will be held on Friday October 30, 1:00-2:30pm in TEL 1004. The panel is open to all and conference registration is not required to attend this panel.
The Graduate Student Symposium is sponsored by the Faculty of Liberal Arts & Professional Studies, Faculty of Graduate Studies, Vice President Research and Innovation, Canada Research Chair in the Political Economy of Gender and Work, and the Graduate Programs in Socio-Legal Studies and Political Science.
Organizing Committee | Rawan Abdelbaki • Matthew Corbeil • Lacey Croft • Jordan House
Click here for Symposium Poster
Click here for Plenary Panel Presentation Poster