Jan
29
Tue
2019
Labour and Development Strategies in the Global South: How labour relations moulded new developmentalism in Argentina and authoritarian neoliberalism in Turkey

@ S802 - Ross Building - 8th floor
Jan 29 @ 2:00 pm – 3:30 pm
The Global Labour Research Centre and CERLAC are pleased to host

Labour and Development Strategies in the Global South: How labour relations moulded new developmentalism in Argentina and authoritarian neoliberalism in Turkey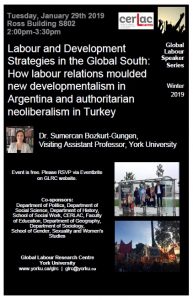 with
Dr. Sumercan Bozkurt-Gungen, York University
Tuesday, January 29th
Ross S802, York University
2:00pm-3:30pm
More than one and a half decade after their worst economic crises endured in their recent history in 2001, Argentina and Turkey are back in the spotlight with another concurrent crisis led by rapidly rising consumer prices and sharp depreciation of their currencies. Observers lumping together these two cases tend to give little or no attention to important differences between the rival development strategies put into effect in these two cases by the 2000s. In this talk, Dr. Bozkurt-Gungen will explore how labour relations and labour policies have differently moulded the post-2001 political-economic trajectories in Argentina and Turkey, characterized by a neo-developmentalist orientation in the former and the entrenchment of the neoliberal agenda with increasingly authoritarian characteristics in the latter.
Dr. Bozkurt-Gungen is a Visiting Assistant Professor in the Department of Social Science and the Department of Political Science at York University. She is a scholar in residence at the Global Labour Research Centre and the Centre for Research on Latin America and the Caribbean at York for the 2018-2019 academic year. Her current research addresses the links between authoritarian forms of governance; relations of production and social reproduction; and limits to and prospects for collective, democratic empowerment.
This is a free event, however seats are limited. Please RSVP!
RSVP via Eventbrite: https://www.eventbrite.ca/e/labour-and-development-strategies-in-turkey-and-argentina-tickets-54366089437
Facebook event page: https://www.facebook.com/events/360843321406493/
Light refreshments will be served.
All are welcome.
The Global Labour Speaker Series is organized by the Global Labour Research Centre at York University and is co-sponsored by Department of Social Science, Department of Politics, Department of History, School of Social Work, CERLAC, Faculty of Education, Department of Geography, Department of Sociology and School of Gender, Sexuality and Women's Study.
Feb
21
Thu
2019
International Graduate Student Symposium 2019

@ York University
The Global Labour Research Centre is pleased to announce its upcoming third annual International Graduate Student Symposium, to be held at York University on February 21-22, 2019. The Symposium will showcase research by emerging scholars on a wide range of issues related to the study of work and labour in a global context, and offers an interdisciplinary forum for graduate students and post-doctoral fellows to share their research in a collaborative and supportive environment.
The Call for Proposals is available through the link below. Deadline: November 4th, 2018.
Please submit your proposal and supporting information using the following link: goo.gl/wpcBwe
Symposium Organizing Committee | Rawan Abdelbaki • Lacey Croft • Alia Karim • Kaitlin Peters • Rahina Zarma  • Dr. Kelly Pike