When:
1 October, 2019 @ 1:30 pm – 3:45 pm
America/Toronto Timezone
2019-10-01T13:30:00-04:00
2019-10-01T15:45:00-04:00
Where:
519 Kaneff Tower
York University
The Global Labour Speaker Series is pleased to host:

GLRC Year Opener: Cutting Edge Themes in Global Labour Studies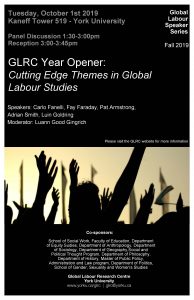 with
Carlo Fanelli, Department of Social Science
Luin Goldring, Department of Sociology
Fay Faraday, Osgoode Hall Law School
Adrian Smith, Osgoode Hall Law School
Pat Armstrong, Department of Sociology
Moderator: Luann Good Gingrich, Director, Global Labour Research Centre
Tuesday, October 1st
519 Kaneff Tower, York University
Panel Discussion 1:30-3:00pm
Reception: 3:00-3:45pm
This panel of distinguished scholars from York University will each present a summary of their research as it relates to one of the five themes of the Global Labour Research Centre, to be followed by a roundtable discussion. The five themes and their presenter include:
Work, Employment and Labour Rights – Carlo Fanelli
Migration, Citizenship and Work – Luin Goldring
Gender Relations in Work and Labour Movements – Fay Faraday
Revitalization of Workers' Movements – Adrian Smith
Work and Health – Pat Armstrong
We are experiencing a time of turbulence in the diverse world of work.  Multiple forces – such as the climate emergency, displacement, and automation – converge to threaten livelihoods of individuals and groups all across the globe. At the same time, growing inequality, fractured social relations, and historical and ongoing structural violence provoke great rifts between us, often setting up fierce competition and conflict rather than cooperation and creativity. Responses – even from the academy – are commonly reactionary and fretful rather than forward-thinking and imaginative. This roundtable discussion will focus on pressing issues related to work, labour and livelihoods, and the opportunities and challenges for research in a rapidly shifting landscape. We will consider questions such as:
What is the place of the "public intellectual" in the current social, economic and political climate?
In these unsettled and contentious times, how can scholars influence the direction of change in labour markets, labour movements, local and global policy, and so on?
What meaningful and productive research questions might be pursued?
How might higher education encourage active and engaged leadership on these urgent challenges we face together?
Adrian Smith is currently the Academic Director of (and former student caseworker in) the Poverty Law Intensive Program at Osgoode Hall, run out of Parkdale Community Legal Services.  Prior to joining Osgoode in July 2018, he taught at Carleton University in the Department of Law & Legal Studies and the Institute of Political Economy.  His work addresses the legal regulation of labour in historical and contemporary contexts.
Luin Goldring is a Professor of Sociology at York who is affiliated with CERLAC, CRS and the GLRC. She is co-editor, with Patricia Landolt, of Producing and Negotiating Non-Citizenship: Precarious Legal Status in Canada.  She is Principal Investigator of a SSHRC funded project on Citizenship and Employment Precarity.  Her current research examines the relationship between noncitizen precarious legal status trajectories and pathways and social inequality.
Carlo Fanelli is Assistant Professor and Coordinator of Work and Labour Studies in the Department of Social Science. His research interests include work and labour market restructuring, public policy, political economy and social inequality. He is the author of Megacity Malaise: Neoliberalism, Public Services and Labour in Toronto, and co-editor (with Bryan Evans) of The Public Sector in an Age of Austerity: Perspectives from Canada's Provinces and Territories.
Pat Armstrong is Professor of Sociology at York University, Toronto. She is Principal investigator of a ten-year SSHRC-funded project "Reimagining Long-term Residential Care: An International Study of Promising Practices" and of "Changing Place: Unpaid Work in Public Places." Focusing on equity in the fields of social policy, of women, work and the health and social services, she has published widely, co-authoring more than a dozen books and co-editing another dozen, as well as many journal articles, book chapters and technical reports.
Fay Faraday is an Assistant Professor at Osgoode Hall Law School, co-chair of the Ontario Equal Pay Coalition, and co-coordinator of a federal network of feminist community-based organizations committed to women's economic justice. Her teaching and research focus on social and economic justice, labour migration, constitutional and human rights, appellate advocacy, ethical lawyering, clinical legal education, and social justice and political activism.
Facebook event page: https://www.facebook.com/events/369660560369985/
Audio | Celia Haig-Brown, Luann Good Gingrich, Carlo Fanelli, Luin Goldring, Adrian Smith and Pat Armstrong
All are welcome.
The Global Labour Speaker Series is organized by the Global Labour Research Centre at York University and is co-sponsored by the School of Social Work, Faculty of Education, Department of Equity Studies, Department of Anthropology, Department of Sociology, Department of Geography, Social and Political Thought Program, Department of Philosophy, Department of History, Master of Public Policy, Administration and Law program, Department of Politics, School of Gender, Sexuality and Women's Studies, Department of Social Science.