When:
2 April, 2020 @ 6:45 pm – 9:00 pm
America/Toronto Timezone
2020-04-02T18:45:00-04:00
2020-04-02T21:00:00-04:00
Where:
Worker's Action Centre
720 Spadina Ave
Amid the COVID-19 outbreak, York University has suspended all face-to-face instruction and has cancelled or postponed all non-essential events. Accordingly, this event and all remaining events planned for the Winter 2020 term have been postponed until further notice. 
The Global Labour Research Centre, the Socialist Project and the Centre for Social Justice are pleased to host the book launch:

Labour and the Class Idea in the United States and Canada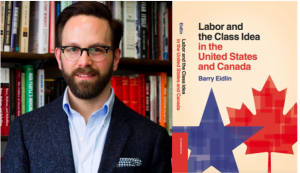 with
Barry Eidlin, Sociology, McGill University, Montreal
Thursday, April 2nd
Worker's Action Centre
720 Spadina Ave (just South of Bloor)
Toronto
6:45pm-9:00pm
Join us for the Toronto book launch for Barry Eidlin's Labor and the Class Idea in the United States and Canada (Cambridge University Press, 2018) . The most comprehensive and systematic assessment ever of explanations for US union decline! Presentation by and Q&A with author.
Why are unions weaker in the US than in Canada, two otherwise similar countries? This difference has shaped politics, policy, and levels of inequality. Conventional wisdom points to differences in political cultures, party systems, and labor laws. But Barry Eidlin's systematic analysis of archival and statistical data shows the limits of conventional wisdom, and presents a novel explanation for the cross-border difference. He shows that it resulted from different ruling party responses to worker upsurge during the Great Depression and World War II. Paradoxically, US labor's long-term decline resulted from what was initially a more pro-labor ruling party response, while Canadian labor's relative long-term strength resulted from a more hostile ruling party response. These struggles embedded 'the class idea' more deeply in policies, institutions, and practices than in the US. In an age of growing economic inequality and broken systems of political representation, Eidlin's analysis offers insight for those seeking to understand these trends, as well as those seeking to change them.
Barry Eidlin is an Assistant Professor in the Sociology Department at McGill University. He is a comparative historical sociologist with an interest in the study of class, politics, and institutional change. More specifically, his research focuses on explaining the diverging trajectories of working class power in the United States and Canada over the course of the twentieth century. Eidlin is the author of Labor and the Class Idea in the United States and Canada (Cambridge University Press, 2018) and numerous popular news and Jacobin articles such as "Bernie's Plan for Workplace Democracy Is the Boldest Presidential Plan for Workers' Rights Ever" and "What Is the Rank and File Strategy, and Why Does It Matter?".

Please let us know you are attending or spread the word on FB
The Global Labour Speaker Series is organized by the Global Labour Research Centre at York University and is co-sponsored by the School of Social Work, Faculty of Education, Department of Equity Studies, Department of Anthropology, Department of Sociology, Department of Geography, Social and Political Thought Program, Department of Philosophy, Department of History, Master of Public Policy, Administration and Law program, Department of Politics, School of Gender, Sexuality and Women's Studies, Department of Social Science, School of Human Resource Management.