When:
28 February, 2020 @ 1:30 pm – 3:30 pm
America/Toronto Timezone
2020-02-28T13:30:00-05:00
2020-02-28T15:30:00-05:00
Where:
Kaneff Tower 519
York University
4700 Keele St., Toronto, ON
M3J 1P3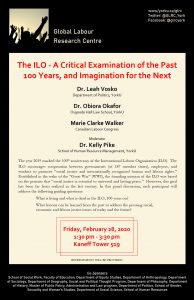 The Global Labour Research Centre (GLRC) is pleased to present:
The International Labour Organization – A Critical Examination of the Past 100 Years, and Imagination for the Next
with
Dr. Leah Vosko, Canada Research Chair, Political Economy of Gender & Work, York University;
Dr. Obiora Okafor, York Research Chair in International and Transnational Legal Studies, UN Independent Expert on Human Rights and International Solidarity, York University; and
Marie Clarke Walker, Secretary-Treasurer, Canadian Labour Congress
Moderator:
Dr. Kelly Pike, Assistant Professor, School of Human Resource Management
Friday, February 28, 2020
1:30 pm – 3:30 pm
Kaneff Tower 519, York University
The year 2019 marked the 100th anniversary of the International Labour Organization (ILO).  The ILO encourages cooperation between governments (of 187 member states), employers, and workers to promote "social justice and internationally recognized human and labour rights." Established in the wake of the "Great War" (WWI), the founding mission of the ILO was based on the premise that "social justice is essential to universal and lasting peace."  However, this goal has been far from realized in the last century.
In this panel discussion, each participant will address the following guiding questions:
What is living and what is dead in the ILO, 100 years on?
What lessons can be learned from the past to address the pressing social, economic and labour justice issues of today and the future?
The panel will critically examine the ILO and its structure, that is, its standard-setting and technical activities as well as its relationships with sending states, other international organizations and NGOs from three distinct yet overlapping angles, including:
Gender, migration, and international labour regulation by Leah Vosko
Global South considerations of international law and social justice by Obiora Okafor
International and national labour policy formulation, instruments, and implementation by Marie Clarke Walker
Dr. Leah Vosko is Professor of Politics and Tier 1 Canada Research Chair in the Political Economy of Gender & Work at York University. Her research examines employment standards enforcement and access to rights among workers labouring transnationally. She is the author and editor of numerous scholarly books, volumes and articles. Her latest sole authored book, Disrupting Deportability: Transnational Workers Organize, was published by Cornell University Press in December 2019 and her latest co-authored book, Closing the Employment Standards Enforcement Gap: Improving Protections for People in Precarious Jobs, is forthcoming this Spring with the University of Toronto Press.
Dr. Obiora Okafor is the York Research Chair in International and Transnational Legal Studies (Senior Tier) and a tenured Full Professor of Law at the Osgoode Hall Law School of York University, Toronto, Canada. He is the UN Independent Expert on Human Rights and International Solidarity and a former Chairperson of the UN Human Rights Council Advisory Committee. The General Editor of the international journal, the Transnational Human Rights Review, and editorial board member of a number of other academic journals around the world, he has held the Gani Fawehinmi Distinguished Chair in Human Rights Law at the Nigerian Institute of Advanced Legal Studies, and served as a Visiting Professor at a number of universities and institutes around the world. He was conferred the Award of Academic Excellence of the Canadian Association of Law Teachers in 2010 and the Gold Medal for Exceptional Research and Major Contributions to Jurisprudence of the Nigerian Institute of Advanced Legal Studies in 2013.
Marie Clarke Walker is a published author, Vice-President (Labour) of a national political party, and the Secretary-Treasurer of the Canadian Labour Congress. As both the first racialized woman and the youngest officer to be elected in CLC history, Marie served as Executive Vice-President for five terms before being elected Secretary-Treasurer in 2017. Alongside her work in Canada, Marie is currently a Titular Member on the ILO Governing Body. In 2017, she served as Vice-President (Workers) of their annual conference and most recently, as the Worker Vice-Chair, she helped negotiate the historic Convention and Recommendation on Violence and Harassment in the World of Work.
Facebook event page: https://www.facebook.com/events/1233403823530606/
All are welcome.
The Global Labour Speaker Series is organized by the Global Labour Research Centre at York University and is co-sponsored by the School of Social Work, Faculty of Education, Department of Equity Studies, Department of Anthropology, Department of Sociology, Department of Geography, Social and Political Thought Program, Department of Philosophy, Department of History, Master of Public Policy, Administration and Law program, Department of Politics, School of Gender, Sexuality and Women's Studies, Department of Social Science, School of Human Resource Management.