When:
13 February, 2020 @ 12:30 pm – 2:30 pm
America/Toronto Timezone
2020-02-13T12:30:00-05:00
2020-02-13T14:30:00-05:00
Where:
York Lanes
80 York Blvd
North York
ON M3J

The Global Labour Research Centre (GLRC) is pleased to present:
The War on the Poor: Poverty and Resistance in the Neoliberal Era
with
John Clarke, Packer Visitor in Social Justice, and
Contributions from Jane Finch Action Against Poverty Members, Butterfly Gopaul and Suzanne Narain
Thursday, February 13, 2020
12:30 pm – 2:30 pm
York Lanes 280N, York University
While unemploy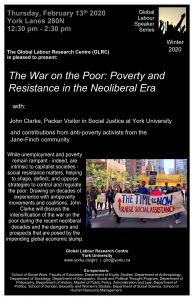 ment and poverty remain rampant – indeed, are intrinsic to capitalist societies – social resistance matters, helping to shape, deflect, and oppose strategies to control and regulate the poor. Drawing on decades of experience with anti-poverty movements and coalitions, John Clarke will discuss the intensification of the war on the poor during the recent neoliberal decades and the dangers and prospects that are posed by the impending global economic slump.
John Clarke became involved in anti-poverty organizing in London, Ontario in 1983, when he helped to form a union of the unemployed. From 1990 to 2019, he was an organizer with Ontario Coalition Against Poverty (OCAP). Presently he is the Packer Visitor in Social Justice at Toronto's York University.
Facebook event page: https://www.facebook.com/events/121218445785966/
All are welcome.
The Global Labour Speaker Series is organized by the Global Labour Research Centre at York University and is co-sponsored by the School of Social Work, Faculty of Education, Department of Equity Studies, Department of Anthropology, Department of Sociology, Department of Geography, Social and Political Thought Program, Department of Philosophy, Department of History, Master of Public Policy, Administration and Law program, Department of Politics, School of Gender, Sexuality and Women's Studies, Department of Social Science, School of Human Resource Management.