When:
6 February, 2014 @ 8:00 am – 10:00 am
America/Toronto Timezone
2014-02-06T08:00:00-05:00
2014-02-06T10:00:00-05:00
Where:
Ross S802
4700 Keele St
Toronto, ON M3J 1P3
Canada

Traditional Unions Can't Help Baristas. Can Non-Traditional Ones? A Legal Discussion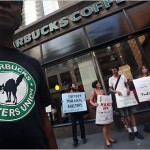 Thursday, February 6th, 2014 | 12:00pm – 2:00pm | Ross S802
There's been a lot of chatter recently about baristas and other low-wage service workers looking to unions for help. GLRC faculty affiliate David Doorey argues that those efforts, while valiant, are doomed to fail. Canadian labour laws aren't designed to enable collective bargaining in these types of workplaces. Doorey considers whether recent Charter cases and the growing influence of American labour law in Canada hint at an alternative route that could make collective representation possible in small service sector workplaces.
David Doorey is Associate Professor in the School of Human Resources Management and Academic Director of Osgoode Hall Law School's executive LLM Program in Labour and Employment Law. He has degreed in law and industrial relations from the University of Toronto (B.A., M.I.R.), the London School of Economics (LLM), and Osgoode Hall Law School (LL.B., Ph.D).  He is called to the Bars of Ontario and British Columbia, and practiced labour and employment law in both provinces prior to returning to academic life. His research interests include labour and employment law, legal theory, regulatory theory, and labour practices governance within global supply chains. Recent publications include "Graduated Freedom of Association: Worker Voice After the Wagner Model," Queen's Law Journal (2013); "A Model of Responsive Workplace Law,"  Osgoode Hall Law Journal (2012); and "The Transparent Supply Chain: From Resistance to Implementation at Nike and Levi-Strauss," Journal of Business Ethics (2011). He is also the author of the award-winning blog The Law of Work and a frequent commentator in the media and on Twitter.
Audio | David Doorey [Note: A phone in a cupboard rang during David's talk, and it took us some time to find it. Please excuse the interruption!]
Event Poster (pdf)