Wednesday January 21, 2015 | S 701 Ross Building | 12:00pm- 2:00pm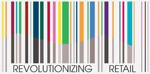 Dr. Kendra Coulter is a professor in the Centre for Labour Studies at Brock University, Canada's fastest growing labour studies program. She has written and taught widely on work, gender, and social justice, and is the author of Revolutionizing Retail: Workers, Political Action, and Social Change.
A thoughtful media commentator, committed public intellectual, and sister in struggle, Kendra seeks to broaden the ways good jobs and solidarity are both understood and promoted.
Audio | Coulter